New product for nursing students

February 14, 2003
FOR IMMEDIATE RELEASE

Cary, NC - February 12, 2003 - Ascot Technologies, Inc., a Cary based software and systems integration company specializing in wireless applications, announces the release of AscotNP Version 1.1.0. AscotNP is Palm® OS based software, which permits Nurse Practitioner Students to collect a wide variety of data from their clinical experiences. This aids Nursing Instructors in evaluating the variety and value of student experiences when preparing them for later practice.

According to Theresa N. Grabo, PhD, CRNP, of Binghamton University, "AscotNP has been used successfully in our Nurse Practitioner program. Student Nurse Practitioners collect clinical data on a Palm® handheld. Collecting this data on a Palm saves time and allows us to analyze trends in nursing education and in the community."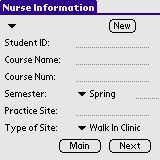 Sample Screen for AscotNP
Ascot Technologies' CEO Mary Ellen Randall spoke about AscotNP. "AscotNP Version 1.1.0 provides Nurse Practitioners with additional treatment options, as well as additional clinical settings. We are very pleased that AscotNP is helpful in training Nurse Practitioners, who are so important to our quality of life."
About Ascot Technologies, Inc.: Located in the Research Triangle Park area of North Carolina, Ascot Technologies develops software providing real-time wireless access to your data from a mobile device, such as cell phone or PDA. Areas of specialty include Medical, Real Estate, Inventory Management, Customer Relationship Management and Order Management. For more information, visit www.ascottechnologies.com or call (919) 388-1776.
Contact Information
Annette Cook
Ascot Technologies, Inc.
109A Kilmayne Dr.
Cary, NC 27511
(919) 388-1776
acook@ascottechnologies.com
www.ascottechnologies.com
What They Say
"HMMS helps us improve a patient's care plan through accurate, ongoing reporting and monitoring of patient readings. It enhances patient-physician communication through its transmission of physician- ordered medication changes directly back to the patient at home."
Contact
About Us
Our mission is to provide real-time wireless access to your data to give you an advantage in the market place.